UPCOMING SPECIAL EVENTS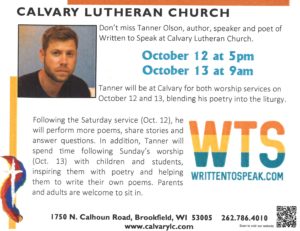 Luther's "Seven Marks" Live at Calvary
Sunday, October 20 at 4:00 p.m.
Calvary's Music Ministry will host a special occasion to celebrate the Reformation a bit early. Director of Music Ministry Gene Traas will lead a hymn festival that is based on a hymn festival written by Evanston-based pastor Frank Senn. The program will visit each of Martin Luther's Seven Marks, in text and in hymns. Free Event – all are welcome!
Spooktacular Fall Festival Dinner
Friday, October 25 at 6:00 p.m.
Mark your calendar for an adult only SPOOKTACULAR evening of laughter and fellowship. Bring your own wine/beer and an appetizer to share. Costumes are highly encouraged, but not required. Watch for the sign-up sheet in the Narthex!
Sunday, November 17 at 1:00 p.m.
Join us for the third anual Create a Sign party and make one (or more!) decorative wooden signs. They make terrific Christmas gifts or something to decorate your home. Sign samples will be on display in the Narthex in October, along with a sign up sheet. All ages are welcome.
Joy of Christmas Benefit Concert
Thursday, December 12 at 7:00 p.m.
You are invited to listen to a wonderful concert benefitting the Salvation Army of Waukesha. Tickets go on sale in November and pricing is $11 for Adults, $10 for Seniors, $2 for Students (5th grade and up with student ID) and $1 for Veterans with military I.D. For more information, visit waukeshasalvationarmy.org