Celebration Ringers
Our Celebration Ringers play Calvary's five-octave Schulmerich hand bells and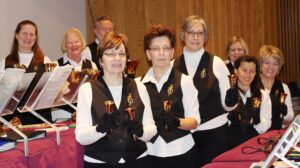 occasionally the three-octave set of Malmark Choir chimes. The members have a wide range of backgrounds and musical abilities, but all share the common goal of offering their musical best to the Lord. The group rehearses on Wednesday nights at 5:30 pm during the program year. The ability to read music is not required, but helps.
If you feel the urge to swing large metal objects that make noise, under adult supervision, there's a place for you in Celebration Ringers!
Psallite Choir
The Alleluia Choir is open to ages 15 to 115! The group rehearses and sings together from September through Pentecost on Wednesday nights at 4:15 pm sings two Sundays a month, along with seasonal services, and an occasional Saturday service.
If you have been considering becoming a part of the music ministry, this would be an excellent place to get involved!
Music is an important part of life at Calvary, both in worship and celebration. Calvary has various choirs, ensembles, and music teams regularly leading music in worship, enhancing our worship experience and glorifying God. In addition to worship, our music ministry team hosts special events throughout the year. Opportunities are available for people of all ages and talents. Questions? Email our Music Director at musicdirector@calvarylc.com.